International project in Vietnam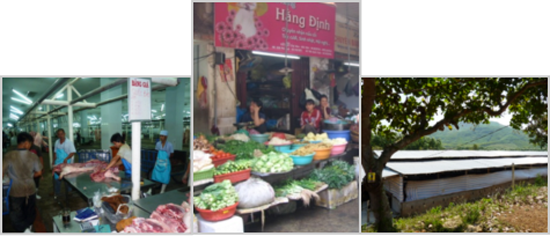 Director : Dr. Sylvain Quessy
Co-director : Dr. Ann Letellier
Montreal University Newspaper article about the Vietnam Project (Fr)
Improvement of food quality and safety
The Food and Agricultural Products Quality Development and Control Project (FAPQDCP) was a five-year Vietnam project (2008-2014) funded by the Canadian International Development Agency (CIDA) and implemented by NAFIQAD/ MARD in collaboration with the ministry of health and ministry of science and technology, and other stakeholders with the support of Canadian partners. The goal of the FAPQDCP project is to improve the quality, safety and marketability of agricultural and food products through strengthened production, processing and quality control systems. The overall approach of the FAPQDCP project is based on a four-pronged strategy
The development of good production practices (GPPs) in all steps along the continuum of food production (fruits, vegetables, poultry and pork), namely, an approach "from farm to table".
Testing/validation of new GPPs in the Vietnamese context.
Support the implementation and monitoring of current Vietnamese standards, as well as the development of new quality standards based on the GPPs developed by the project
Communication, branding and marketing activities to ensure that farmers, cooperatives and other companies who produce under the new certification will receive a premium which will cover the cost of operating under the GPPs and will generate additional benefits.
For more information : www.thucphamantoanviet.vn
---
Risk characterization of Salmonella Enteritidis in broiler chicken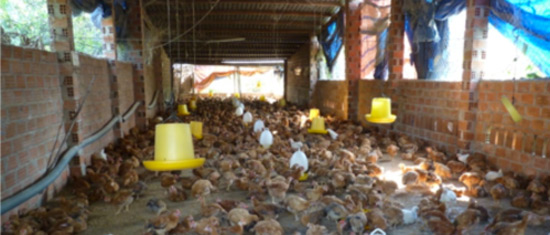 PROBLEM : The Pulsed-Field Gel Electrophoresis (PFGE) technique using two enzymes, such as recommended by the Center of Disease Control is currently being used to characterize strains of Salmonella Enteritidis (SE) isolated in Canada in the context of various monitoring programs. However, new molecular techniques with higher sensitivity are currently being tested for this bacterium. More particularly, various government agencies are working on an analysis test validation process of several locus VNTR ("Variable Number of tandem repeats") or MLVA. A Recent study mentioned that by using a combination of three enzymes-PFGE, the required sensitivity to distinguish different SE isolates would be reached (reference).
HYPOTHESIS : The three enzyme-PFGE technique is sufficiently discriminant to characterize SE strains and would serve to highlight the genetic link between the strains coming from human cases, American origin chicks and those isolated from slaughterhouses.
OBJECTIVES :
Comparison of two characterization techniques: three enzymes-PFGE vs MLVA and their ability to distinguish between different Salmonella Enteritidis isolates.
Check if genetic links exist between different origin strains for a given geographical region.
Student
Man Ha Anh NGUYEN, master, 2012 (Papyrus link to come), supervisor Martine Boulianne, cosupervisor Philippe Fravalo
---
Quantification of Staphylococcal Enterotoxins in beef & pork meat by HPLC-ESI-MS/MS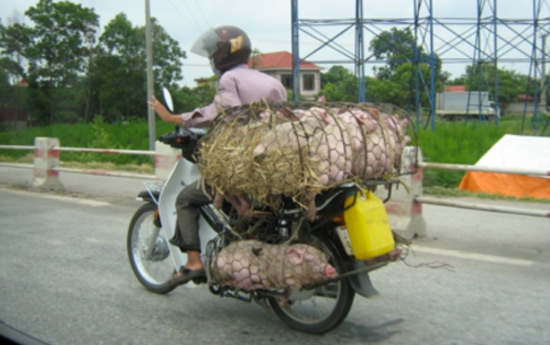 Enterotoxins are responsible for the vast majority of food-borne infections, as a direct consequence of their presence in ingested food. Thus, it is important to selectively detect and quantify Enterotoxins in order to evaluate the foods safety. Staphylococcal enterotoxins A, B, C, D and E (molecular weight ranging between 28000 and 25000 Da) are enterotoxins produced by Staphylococcus aureus. The detection of enterotoxins is usually made by using enzyme immunoassay kits (ELISA) to rapidly detect toxins in implicated food. However, ELISA techniques are not often highly selective and false positive results are common.
The proposed research project includes the development and validation of a unified analysis method for staphylococcal enterotoxins A, B, C, D and E by using an in situ calibration technique combined with isobaric isotopic markers (iTRAQ 4 or 8 plex) and analyzed by HPLC-ESI-MS/MS. The mass spectrometry offers a very high selectivity/sensitivity and allows molecular characterization of the toxin. Following the progress in analytical techniques, a complete validation of the analysis, including evaluations of the recovery, accuracy, precision, sensitivity, selectivity, and reproducibility are considered. This new method will be introduced at Canadian and Vietnamese reference laboratories.
Student
Khanh Dang Bao, master, 2012, supervisor Francis Beaudry, cosupervisor Ann Letellier
---
Prevalence and risk factors for antibiotic use in chicken flocks in Vietnam
PROBLEM : In Vietnam, the presence of antibiotic residue in poultry products represents a potential risk to public health and an export limit that should be better described and controlled. This project will lay the foundation for the control and surveillance of this problem.
OBJECTIVES : This project aims to define a performance indicator for a valid assessment of the presence of antibiotic residues in poultry products, and assess the factors of variation related to this indicator.
Student
Hang Thi Viet Nguyen, master, 2014, supervisor Julie Arseneault, cosupervisor Denise Bélanger
---
Evaluation the effectiveness of conventional vs biological pesticides to reduce several bacterial contaminations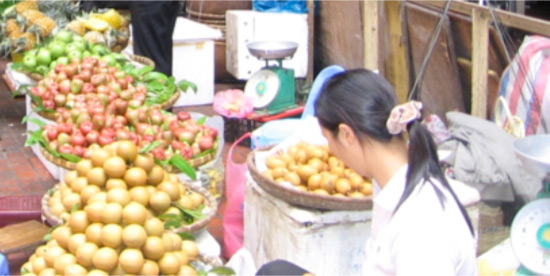 PROBLEM : Pesticide residues found in food, mainly fruits and vegetables especially in Vietnam, but also in other countries, are worrying in public health context. In addition, consumers are more and more demanding with regard to the safety of food that they consume, which requires the development of new natural approaches.
HYPOTHESIS : The use of conventional pesticides has an impact on vegetable safety (presence of residue on leaves) then more natural approaches, such as the use of (BT) (Bacillus), permit while being effective to reduce diseases, to combat the presence of enterobacteriaceae.
OBJECTIVES : In general, this project aims to compare and evaluate the effectiveness of conventional vs natural biological pesticide approaches, including the use of BT, to combat the presence of enterobacteriaceae on leafy vegetables. The specific objectives are to: 1) select conventional and biological pesticides of interest for the leafy vegetables, (2) develop the experimental model at greenhouse in Quebec in order to test various approaches, 3) quantify post-treatment enterobacteriaceae in order to assess the effectiveness of these approaches in reducing the risk of contamination, 4) quantify pesticide residues on leafy legumes at different times, 5) define the more effective natural strategy for reducing the risk of residues and bacterial contamination, 6) apply the model in the Vietnamese context by the establishment of a pilot project.
Student
Thi Phuong Hoa TRAN, master, 2012, supervisor Ann Letellier, cosupervisors Caroline Côté and Francis Beaudry
---
Characterization of isolated Escherichia coli strains from water, faeces and carcasses of pigs and chickens in Vietnam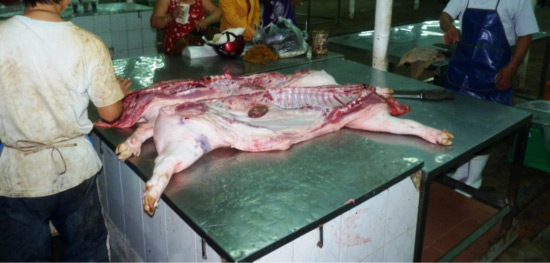 PROBLEM : Several Escherichia coli are an integral part of the intestinal microflora of animals and humans, not necessarily causing disease. However, some strains are associated with human and animal sickness and may be related to food-borne diseases. Among these strains, we find four main categories: Shiga Toxin E. coli (STEC), enteropathogenic E. coli (EPEC), Enterotoxinogenic E. coli (ETEC) and Extra-intestinal Pathogenic E. coli (ExPEC).
HYPOTHESIS : Some E. coli found in pork and chicken breeding may be potentially zoonotic due to the contamination of meat and other animal products intended for human consumption.
OBJECTIVES : We have to assess the prevalence of STEC, EPEC, ETEC and ExPEC in pig and chicken herds in Vietnam, detect the virulence genes and extensively characterize the pathogenic strains by serotyping, genotyping, and antimicrobial resistance.
Student
Thu Minh PHAM, master, 2014, supervisor John Fairbrother, cosupervisor Ann Letellier
---
Prevalence of foodborne bacteria in carcasses or portions of chickens retail sold in Vietnam
PROBLEM : Through a project sponsored by CIDA, the Faculty of Veterinary Medicine actively participated in the establishment of a program to improve food safety in different food sectors in Vietnam. The production of chicken meat is one of the intended chains and methods based on HACCP principles that must be implemented to improve food safety. However, for practical reasons, the project aims at the trade market for chicken carcasses, and vending at supermarkets. Nevertheless, the live and slaughtered birds marketed in front of clients or even retail sales of raw meat on street markets are traditional practices and the majority of Vietnamese people consume the bird meat on the same day. This type of business is considered by many a dangerous practice because of the risk of cross contamination. Interestingly, the chicken sold frozen is even perceived to be an unsold chicken, and then frozen before becoming degradated.
HYPOTHESIS : The prevalence of bacterial contamination is greater in carcasses of fresh chicken from traditional markets than from supermarkets or frozen carcasses
OBJECTIVES : Measure and compare the prevalence of Salmonella and Campylobacter in carcasses of fresh chicken from traditional markets or supermarkets or also frozen carcasses from supermarkets
Student