Saint Lawrence Belugas Program
Description
In 1982, with the financial support of Fisheries and Oceans Canada (Dr. P. Béland), Dr. Martineau initiated an ongoing program of systematic postmortem examination of beluga stranded dead on the shores of the St Lawrence Estuary (SBW). Fisheries and Oceans Canada (Dr. Lena Measures) still supports this program.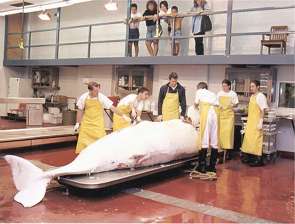 Since 1984, all reasonably well preserved carcasses found on the St. Lawrence shoreline are brought to the postmortem room, approximately 500 km southwards, where they can be thoroughly examined by veterinary pathologists.
Beginnng in 1982, postmortem examination has been coupled with the toxicological analysis of tissues. From 1983 to 1999, nearly half (129) of the 263 beluga carcasses stranded in the St. Lawrence estuary have been examined in the postmortem room, at the College of Veterinary Medicine of Université de Montréal by veterinary pathologists S. De Guise, C. Girard, A. Lagacé, S. Lair, D. Martineau and I. Mikaelian. Of the carcasses examined, 100 (77%) were considered to be preserved adequately for diagnostic purposes. Eighteen beluga (18 % of preserved carcasses) died of cancer.The integral version of an article on this subject is available : Cancer in Wildlife, a Case Study: Beluga from the St. Lawrence Estuary, Québec, CanadaYou want to help ?Thank you for visiting our site. Dr. Martineau carries out a research program on cancer in fish and marine mammals inhabiting Quebec waters. By better understanding the respective effects of pollution and infectious agents, we will be able to identify which pollutants must first be eliminated to allow the rehabilitation of this unique ecosystem. And yes, you can help! Please support Dr. Martineau's students and research program by a tax-deductible donation to Aqua Santé du Saint-LaurentPlease print and fill in the form (PDF or rtf file). A receipt will be issued automatically for contributions of 25$ or more.

Our sincere thanks to Richard Plante and Carl Guimont (Filmar) who, for years, in any weather, at any time of the day or night, recovered and transported dozens of beluga carcasses from the Gaspé peninsula and the North Shore to the College of Veterinary Medicine, in St. Hyacinthe.We thank Fisheries and Oceans Canada, the World Wildlife Fund, CCWHC and CQSAS for financial support.